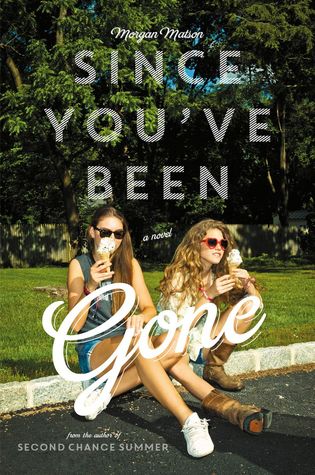 Title: Since You've Been Gone
Author: Morgan Matson
Publication Date: May 6th, 2014
Rating: 5/5 Stars
Summary: The Pre-Sloane Emily didn't go to parties, she barely talked to guys, she didn't do anything crazy. Enter Sloane, social tornado and the best kind of best friend—the one who yanks you out of your shell.
But right before what should have been an epic summer, Sloane just… disappears. No note. No calls. No texts. No Sloane. There's just a random to-do list. On it, thirteen Sloane-selected-definitely-bizarre-tasks that Emily would never try… unless they could lead back to her best friend.
Apple Picking at Night? Okay, easy enough.
Dance until Dawn? Sure. Why not?
Kiss a Stranger? Wait… what?
Getting through Sloane's list would mean a lot of firsts. But Emily has this whole unexpected summer ahead of her, and the help of Frank Porter (totally unexpected) to check things off. Who knows what she'll find?
Go Skinny Dipping? Um…
My Review: This book was recommended to me by the wonderful Christine from thebookishdaydreamer.com. I'm glad she recommended it to me, because I'm normally not one to read contemporary books unless someone tells me too - I prefer paranormal or mystery books- but I'm glad I did this time, because this book blew me away.
The writing was fresh and new and had wonderful imagery. I think this would be the perfect summer beach read. It definitely kept me turning pages, wanting to know where Sloane had gone, and how Emily was going to complete the items on the list - this book gets bonus points for having a main character named Emily! ;)
Overall, I adored this book, and I'm so glad Christine recommended it to me! This review is my way of recommending it to you, so go read it right now!